insights
Protecting content is liberating
Recently, The New European Copyright Directive has been transposed into National Law. Basically, the directive arranges better copyright protection for the reuse, and redistribution of content. Though the directive seems to focus mainly on the big tech platforms that aggregate and massively distribute content, the directive also underlines the importance of respecting the value of quality content as such.
And let's be frank, Google and Facebook are not the only ones profiting from original content creation. Some editors and publishers seem to believe that 'copy/pasting' the work of others, or making a few minor adjustments to original content, is good enough to have the content 'for free', leaving the original creator with nothing. As if it were some 'basic Internet law' you are allowed to do that. The Directive ends the mistaken perception that digital content is some common good. In order to make it worthwhile to create quality content that takes talent, time and resources, this content should be protected and respected. Without contributing 'value' to great content, it cannot be produced. This is an imperative.
As long as the creator stays in controle, and gets the benefits, sharing content and reaching new audiences with it, makes good sense. A French judge recently imposed a 500 mio Euro fine on Google, for the redistribution of news articles; it is an indication of the value great content can generate and how huge the benefit of redistribution of content can be.
The Content Exchange is a marketplace for quality content. Rights, distribution rules and pricing are set by the creator, who stays in full control. By doing this, all TCE participants secure and manage the conditions for reuse of their content to any party they want to do business with. The 'buyers' of the content get the assurance that conditions are arranged and can perform transactions with the creator immediately. It is an easy way to do 'fair' business between each other, respecting that the creator should benefit from redistribution.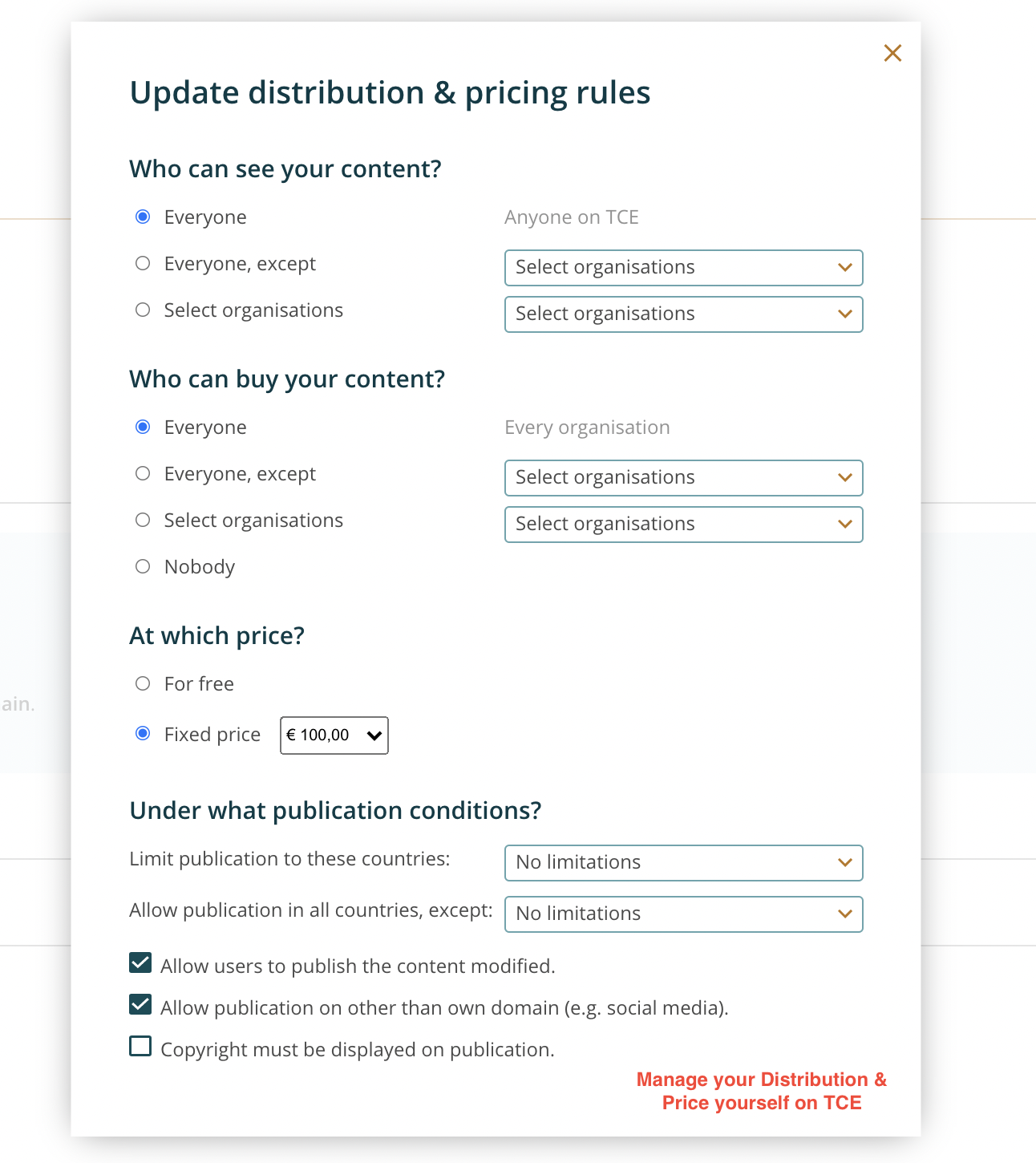 We believe that sharing and redistributing content is not a game for 'big tech' only, but that every creator and publisher can have the same opportunity. As long as pricing and rights are arranged, using and reusing content offers huge possibilities for any publisher. There is so much valuable content created, why only share it with Facebook or Google? Why not trade with publishers that share the same interest but have completely different audiences. TCE trades with 35 publishers in 8 different countries. Translation engines make sure that for example editors in Turkey will understand a piece written in the Netherlands. The editor will add value by curation, localisation and distribution of the content. New audiences will enjoy, learn or get inspired, the creator gets paid and the editor reusing the article can offer the audience the best content the world has to offer.
TCE empowers every publisher and every creator to reach a global audience or to tap into a large database of stories, while respecting the rights of the creator. Freelancers and journalists are not dependent on 1 'buyer' of their story. TCE enables them to offer it to dozens of buyers. A publisher is no longer limited to fixed editorial capacity but can publish stories on any subject relevant to the audience or individual visitor. Data driven publishing, based on individual preferences of audiences, gets in reach by making data driven decisions on what to publish. TCE network of publishers and creators will be able to deliver the right content for different needs. In this light, the directive is not about protection, but about liberating content. it opens up a whole new way of working between creators, publishers and distributors.
Digital publishing is not about copy/pasting, but about creating and sharing value together.
Want to learn more about working with The Content Exchange? Contact us now.